Science, Theology and the Turin Shroud

International Shroud Conference
Redeemer University College
Ancaster, Ontario, Canada
August 14-17, 2019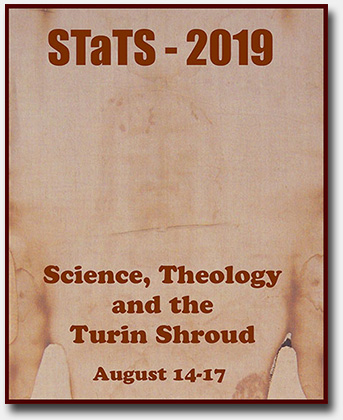 Ancaster Conference Book Cover
---
An international Shroud conference titled, Science, Theology and the Turin Shroud was held on Wednesday, August 14, 2019 to Saturday, August 17, 2019, at Redeemer University in Ancaster, Ontario, Canada. The event was sponsored by the Arthur C. Custance Centre for Science and Christianity, Mark Antonacci and the Test the Shroud Foundation and organized by long time Shroud scholar Dr. Gary Chiang, professor emeritus at the university. More than 70 registrants attended the event and speakers came from the USA (8 states), Canada, Mexico, Costa Rica, France, Spain, and the UK. Unfortunately, the event started on a very sad note when we received word that one of the scheduled speakers, Tony Fleming, had passed away the day before he was to depart for the conference from his home in Victoria, Australia.

In spite of this sad news, the event went on as planned and featured presentations by many well known Shroud scholars. Also attending and making one of the keynote presentations was noted Shroud skeptic, Joe Nickell. The conference was very well organized and stayed on schedule throughout the entire event, which was appreciated by all the attendees. I think everyone agreed that the meals were absolutely superb and a real credit to the organizers. The only criticism voiced by the attendees was that so many papers were accepted, two presentations had to be made simultaneously in two adjoining lecture halls to accommodate them all within the three day event. This made it impossible to hear more than 50% of what was presented and often forced attendees to choose between two interesting topics. Although the organizers were very generous in accepting a broad range of papers, a more rigid screening process would have eliminated the need for simultaneous presentations. Still, many excellent papers were presented and in every other way the conference was a great success. The Custance Centre will publish a book based on the conference and all speakers have been invited to submit papers to be considered for that publication.

All of the conference presentation topics are listed on this page and links are included for all that were available as we went to press. Also included are links to all the available abstracts (reprinted from the program booklet distributed at the conference), photos, PowerPoint presentations and video clips and we will add any additional materials as they become available. Please note that in some cases, presentations have been updated or titles changed and may be different than in the original abstract. Wherever possible, we have included links to the latest versions. Note that some links are to papers that are available on other websites (like Academia.edu, etc.). The presentations are listed below in as close as possible to the actual order in which they were presented at the conference, remembering that two presentations were being given simultaneously throughout the event (except during the keynote presentations) and that each individual topic was limited to 20 minutes. Consequently, you will find multiple topics listed for some of the speakers who made several presentations on different topics. In addition, due to unforseen circumstances, some last minute rescheduling was required during the event which impacted the order of the presentations. Click on the linked name of any person on the page to see a high quality photo of that presenter. All photographs are ©2019 STERA, Inc. unless otherwise noted.
---
---
Wednesday, August 14, 2019
---
Conference Speakers (l to r): Giorgio Bracaglia, Hugh Farey, Janis Winchester, Larry Stalley, John Loken, Cathy Jarrett, Bob Rucker, Jeffrey Skurka, Joe Marino,
Catherine Osborn, Thomas McAvoy, Kristy Moore, Tristan Casabianca, Patrick Lublink, Mark Antonacci, Tom Devins, Harry Hill (Guest), Cheryl White, Kelly Kearse,
Russ Breault, Jean-Pierre Laude, Teresa Newman, Pam Moon, Mary-Catherine Carroll (Several researchers could not attend and their papers were read by other attendees).
(Click image for larger view)
Thursday, August 15, 2019
---

Not every moment was serious. To celebrate Joe Marino's birthday, Gary Chiang presented him with a special Shroud cake after his superb keynote presentation
---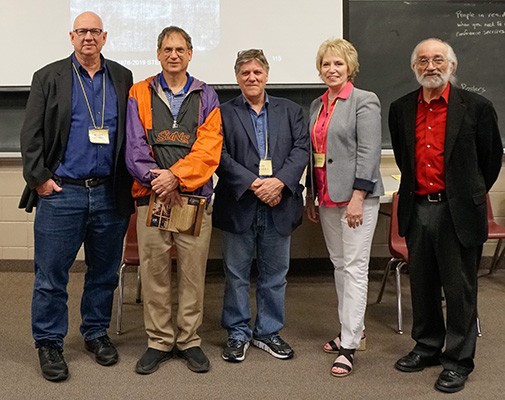 STERA, Inc.'s Board Members were well represented at the conference.
(l to r): Kelly Kearse, Joe Marino, Russ Breault, Dr. Cheryl White & Barrie Schwortz
Photo ©2019 Kelly Kearse (Click image for larger view)
Saturday, August 17, 2019
---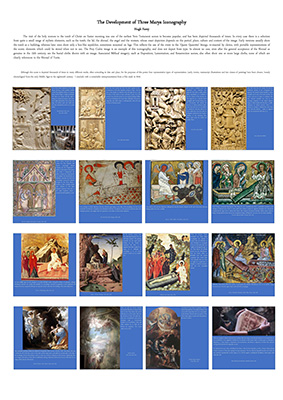 The Development of Three Marys Iconography
by Hugh Farey
In addition to the papers that were presented at the conference, the organizers also accepted a number of Posters from researchers. These were not presented at the conference and in some cases, the authors did not attend the event. Instead, these were submitted and reviewed by the organizers and those that were accepted were printed and displayed at the conference. Here are those that were accepted and displayed:
---
Mark Antonacci and his Test the Shroud Foundation (one of the sponsors of the event), was thoughtful enough to bring in Ricardo Garza of Crossover Media, LLC, to shoot some video of the proceedings. Due to logistical limitations, only a few of the presentations were videotaped in their entirety during the event and we have included links to the full length videos that are available with the appropriate presentations above. However, Ricardo also spent some time shooting brief interviews with some of the speakers and guests at the conference, so I thought it would be great to include them here as a bonus for our viewers. Ricardo plans to add more videos in the future and we will update this page with any new additions as soon as they occur. Here are the links:
---
---
Copyright Notice
All materials on this page are copyrighted to the individual researchers. Access to this site does not grant any rights to copy, publish, sell, license or distribute any included materials, in any form or media, without the expressed written permission of the individual copyright holders. Editorial opinions expressed herein are solely those of the respective authors.
---
---